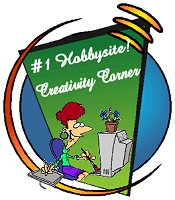 ---
---
Hobby Articles
---
Looking For A New Hobby?

Creativitycorner is, as the name suggests, a "Corner for your Creativity".

Check our sitemap where you wil discover ideas for new hobbies. More introductions to hobby ideas will be added here. Aswell as hobby materials, ebooks, manuals, and other helpful tools, so that you can get started with your new hobby right away!

If you have a suggestion for a hobby, that you would like to introduce on this website, contact me via the link at the bottom of this page, and maybe next time YOUR idea will be featured here!
---
Online Shopping At Triple Clicks
TripleClicks is one of the fastest growing and most popular e-commerce sites on the web today. And starting from your very first day as an SFI affiliate, you can share in the profits of EVERY sale at TripleClicks. For real!

Over 90,000 products from all over the world,
24-hour penny auctions, and a variety of great online games are just part of what makes TripleClicks so special.

TripleClicks has something for everyone, and that makes it both lucrative and fun!
---